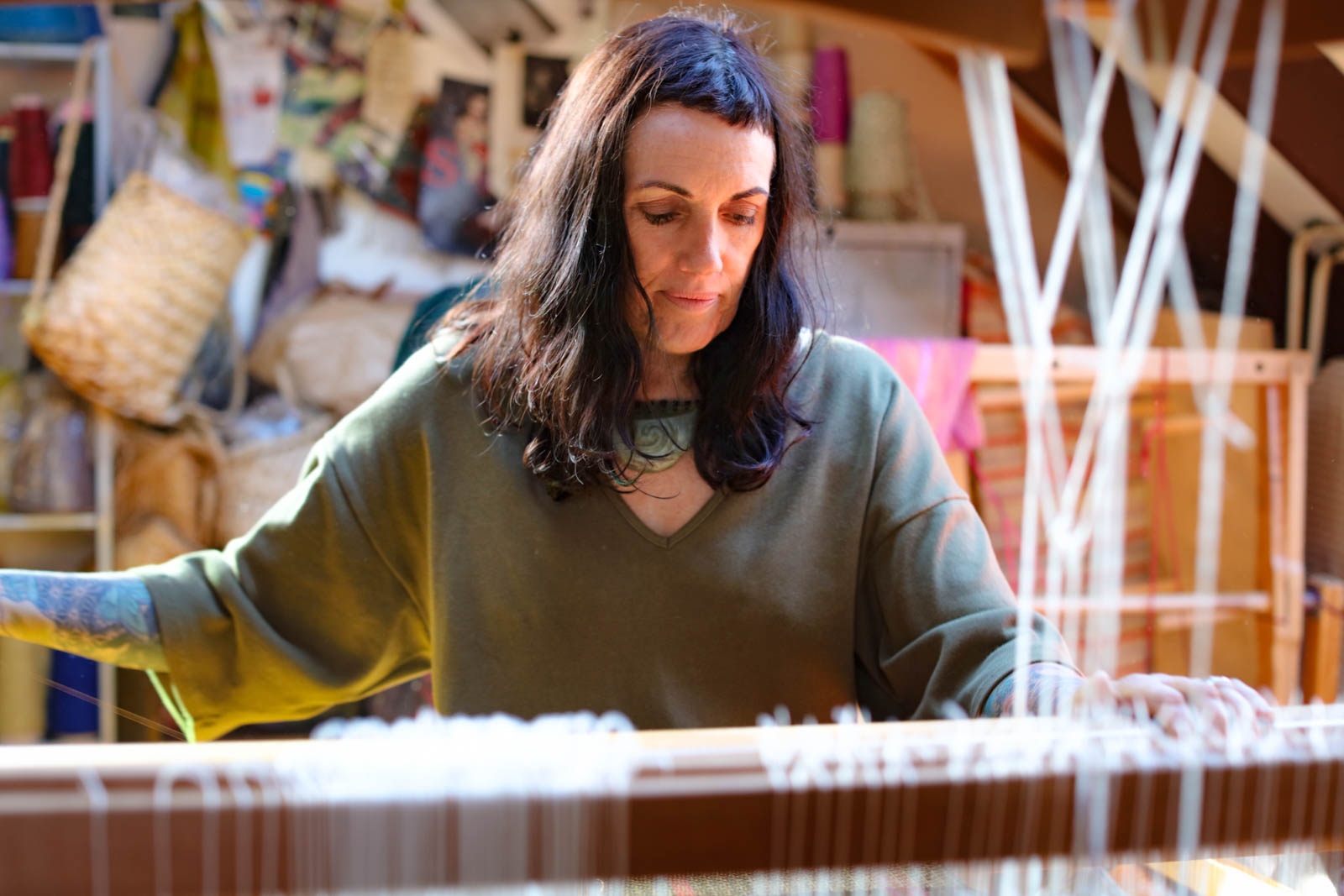 Learn to Hand Weave
I have been a weaver for over 30 years now and one of the highlights of that journey is for me to be able to share the textile weaving process with others. Hand weaving is a sustainable practice producing beautiful and also lasting wearable pieces for warmth and looks. More and more people are coming to my workshops and then continuing the practice by buying their own looms and becoming weavers themselves. Some come for the 2 day experience, others to begin their weaving journey, and to be with others during this creative process as we weave together.
Workshops
Group Workshop • 2 days • What to expect at your workshop:
DAY 1 – We start by discussing the hand weaving process and possibilities, then choosing colours for your weaving. Designing and making your warp comes next, and for the rest of the day you will learn to thread your warp onto a beautiful 4 shaft table loom.
DAY 2 – WEAVING the fun part!! There is an opportunity to share favorite textiles then it's down to weaving for the rest of the day. Choosing your weft colours and weaving designs, then incorporating your ideas as you weave during the day.
There is a maximum of 6 weavers at each group workshop and the process is suitable for all, experienced and new weavers. We weave with PURE WOOLS grown in Aotearoa – it is a warm, breathable, fire safe and generous yarn that is sustainable and beautiful to work with and safe for the environment as a woven garment. I hand dye most of the yarns, when you book you can let me know preferred shades, or just decide on the day. We stop for a delicious vegetarian lunch and a break about 12.30 each day. Tuition, lunch and all materials are provided.
If you have attended a workshop with me before you can weave more complicated patterns at your next workshop. Please ask when you book in and we can discuss the possibilities!
Accelerator Personal Workshop • 1 day • I come to your home or studio and help you set up and develop your weaving practice. One on one tutoring covering setting up your loom, making a couple of warps (yarns included), threading your loom and discussing possibilities in yarns and patterns and weaving techniques. Notes of the weaving process are also provided. If you have already have a weaving practice, extending this with new learning techniques.
Materials
I only weave natural fibers in my textiles, and at the hand weaving workshops we use wool yarns sourced solely from mills and farms in Aotearoa. Merino, polwarth, alpaca and possum merino when it is available, mostly hand dyed by me in a full range of hues.