Ramie Linen Shift
One of my favourite recent weaves! A medium length shift in gorgeous neutral tones with red silk highlights.
Yarns & Dyes
Woven in silky Italian ramie in a soft caramel shade with random highlights of fine vintage Japanese silk in rich red.
The warp is pure linen and slub cotton.
Design & Feel
All in tabby or plain weave with over layers of the red silk, this piece has a gorgeous feel. The ramie is a slightly heavier feel than linen and is very soft.
Ramie is part of the the nettle family, a sustainable fibre source and is a very strong yarn with great wear.
Dimensions - see diagram
Shoulder opening (A-B-A) – 86cm
Vertical fall (A-C) – 58cm
Weaving length (A-D) – double 71cm plus short tassles.
$330.00
1 in stock
How dimensions work...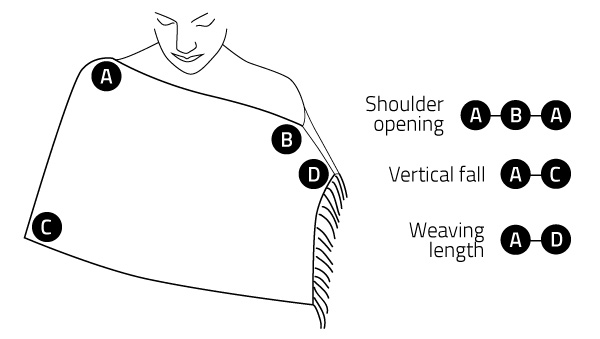 Sizing Capes and Shifts
Anyone can wear a handwoven cape or shift. The key measurement is the width of your shoulders - the shoulder opening measurement is shown in cms with each piece of weaving.
Use the diagrams to help give you an idea of how this piece of weaving will fall on your body. The important thing is, when you receive it - just throw it over yourself and have a play in front of a flattering mirror. Have a look at my gallery to see a few different ways you can wear your weaving if you need inspiration.
The shoulder opening for any cape or shift is adjustable, please get in touch with any questions about this.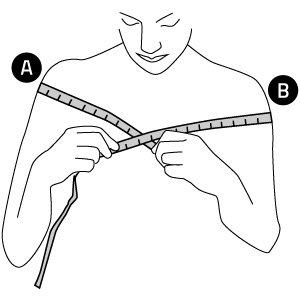 Care
I wash each piece as soon as it leaves the loom. This evens up the fibres, cleans them and fluffs them up to look their best. Your weaving doesn't need excessive washing, wool is great for repelling dirt and moisture. To wash, by hand gently, a non chemical liquid works best, then a quick spin around the washing machine to get out the excess water or roll in a towel. Give the weaving a shake and gently pull the fibres across the width of the weaving. Hang in the breeze over a towel on the line until dry... Easy!!
Rolling your weaving to travel or store will prevent and remove creases.
Word to the wise...
If you ever catch any of the fibres, gently pull the weaving widthwise and the fibres will disappear back into the fabric...