You cannot add "Calm Shift" to the cart because the product is out of stock.
Soft Shift
This shift is woven in soft plant dyed polwarth wool yarns. I start the weaving process by preparing the yarns, hand dyeing pale yellow from onion skins and the soft grey shades from pomegranate. The warp has some lovely shades of mustard, grey and rich reds. The weaving design is birds eye with some blocks of tabby or plain weave.
Feel
Super soft wool feels in this piece, it's a warm medium weight textile.
Shoulder opening (A-B-A) – 86cm
Vertical fall (A-C) – 56cm
Weaving length (A-D) – double 61cm
$290.00
1 in stock
How dimensions work...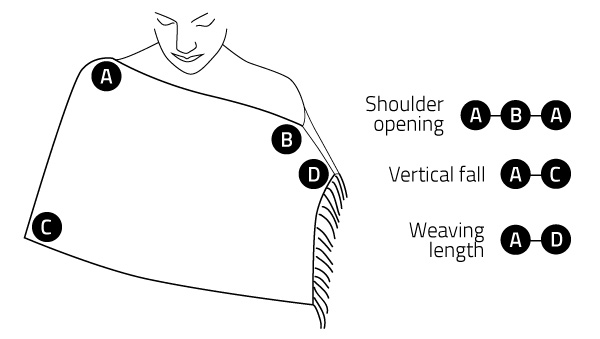 Sizing Capes and Shifts
Anyone can wear a handwoven cape or shift. The key measurement is the width of your shoulders - the shoulder opening measurement is shown in cms with each piece of weaving.
Use the diagrams to help give you an idea of how this piece of weaving will fall on your body. The important thing is, when you receive it - just throw it over yourself and have a play in front of a flattering mirror. Have a look at my gallery to see a few different ways you can wear your weaving if you need inspiration.
The shoulder opening for any cape or shift is adjustable, please get in touch with any questions about this.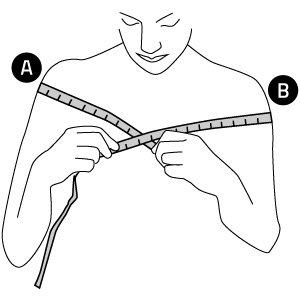 Care
I wash each piece as soon as it leaves the loom. This evens up the fibres, cleans them and fluffs them up to look their best. Your weaving doesn't need excessive washing, wool is great for repelling dirt and moisture. To wash, by hand gently, a non chemical liquid works best, then a quick spin around the washing machine to get out the excess water or roll in a towel. Give the weaving a shake and gently pull the fibres across the width of the weaving. Hang in the breeze over a towel on the line until dry... Easy!!
Rolling your weaving to travel or store will prevent and remove creases.
Word to the wise...
If you ever catch any of the fibres, gently pull the weaving widthwise and the fibres will disappear back into the fabric.